About us
Dominique Sabatier
Au Pas de l'Âne Rousin
Originally from Marseille, I grew up in the village of Abriès, where my family settled in 1964. Passionately fond of horses, I first worked in Camargue and Crau but also abroad in the USA, South America and Portugal, where the horse and the man collaborate on a daily basis.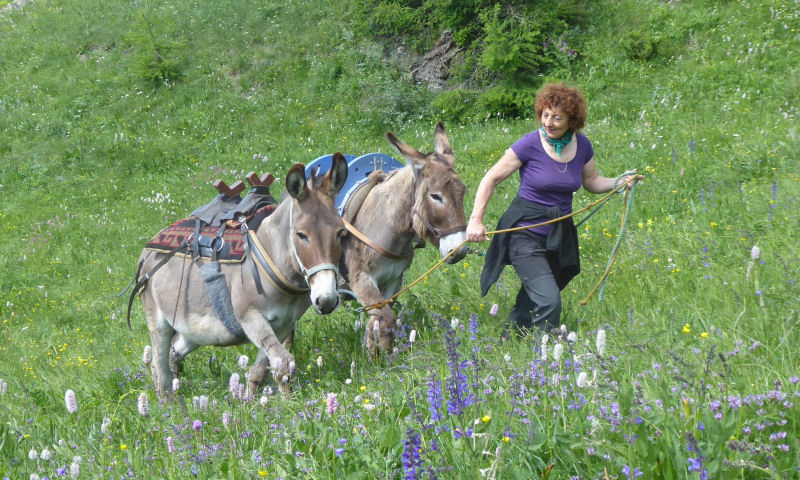 Back in Queyras, an agricultural area whose mountain pastures have always welcomed transhumant breeders from Provence, I am interested in the breeding of sheep and their guarding. I work on different farms where I gain field experience and obtain my diploma as "farm manager" after a year of training at the Carmejane school. I am also involved in the education and training of my dogs for the management of herds and I work as a shepherdess for several years on the alpine pasture of Bric Froid. Pack animals par excellence, calm, docile and endearing, donkeys are also my work companions to ensure supplies in the pastures (transport of salt, nets, firewood, cabin move, etc.).
Today, I am based in Roux d'Abriès in my "Magic Alpage" farm which shelters several agricultural activities: a small herd of merino ewes for the sale of lambs in short circuit, and a breeding of dogs of breed Border Collie for herd management. And with the companions with the big ears of "au pas de l'âne Rousin", I invite you to discover the exceptional landscapes of the high valleys of Queyras and Piemont.

Sophie Tangis
Mountain leader
Originally from the southwest, I completed scientific studies in Toulouse in 1996 and then I had a short professional experience in an electronic equipment design company in Paris. Manhandled by this "off ground" life, I decided to go down again into the south of France and I arrived in Queyras, a wild valley isolated from the tumult of civilization, in 2003.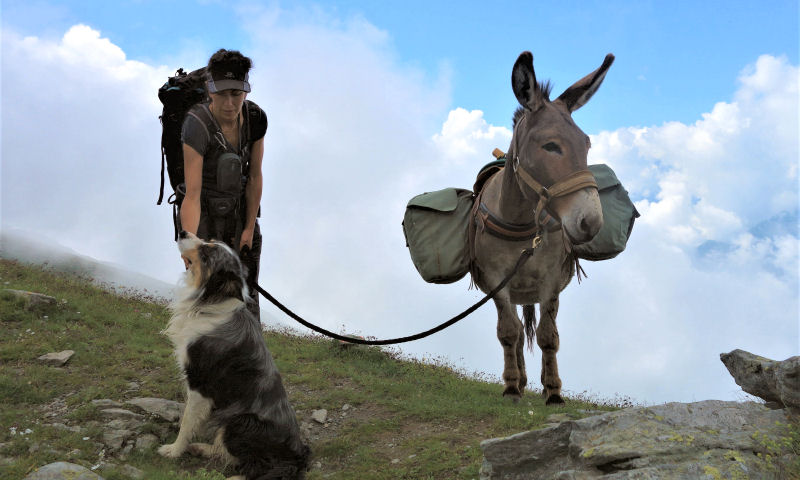 At the heart of the mountains of this regional natural park, I reconnect with partially preserved nature and agricultural activities on a human scale and respectful of the environment; I work with the seasons, in catering in summer and on ski slopes in winter. Curiosity and thirst for learning then encourage me to deepen my knowledge of the mountain environment, its wild fauna and flora, and I obtained the diploma of Mountain Leader in 2006. During my hikes in the Queyrassine valleys, I also discovered the difficulties of mountain breeding and I worked as a shepherdess helper for several summers. It was during this period that I met Dominique, who gave me invaluable advice on the education of herding dogs and on the handling of donkeys, companions as engaging as they are essential.
Traveling with a donkey is a way of life that provides the simple but irreplaceable happiness of taking the time to observe around you. I invite you to share privileged moments and to accompany you, « au Pas de l'Âne Rousin », to discover this exceptional territory, which Michel Blanchet, scientific attaché of the PNRQ, describes as « a rare earth torn from the present, a mountain cradle preserved from nothing, an initiatory arch on which one embarks to rediscover the secrets of the living. In a powerful light carved out of deep shadows she goes, as a great vessel, on the horizon of time pointing her mythical prow in the race of the stars, and so high in the sky that according to legend all her roosters peck the stars there. »