Accompanied hiking
Every week, we offer you a ride with an initiation to the driving and the harnessing of a donkey on registration.
This training is essential to leave in autonomy, when you have no experience of travel with donkeys.
For more information, please contact Dominique at 06 82 48 09 99
During the summer, guided hikes with bivouac are organized by Luc Richard and Constantin Slizewicz to discover the Queyras through its lost valleys. Call us for more information !
A DONKEY, A MULE AND MY TRIBE AROUND THE QUEYRAS
Guided itinerant hike
Accommodation in gites, refuge and yurt, 5 days, 4 nights, 5 days of activities
Roaming: a new experience! To introduce your tribe to the joys of roaming, there's nothing like setting off in the company of our big-eared friends! My first mountain pass at 2,800 m, my first games around the mountain lakes, or in the heart of the larch forest... the wonders of the Queyras will be offered to you in a very playful way, without forgetting the children's mascots, our friends the marmots!
Accompanied by a donkey and a mule you will walk "differently"! Thanks to these animals of tradition, pastoralism and the knowledge of our guide, the motivation of your little walkers will be increased tenfold.
Finally, an unforgettable night awaits you: in a refuge amidst marmots and stars at 2,500 m.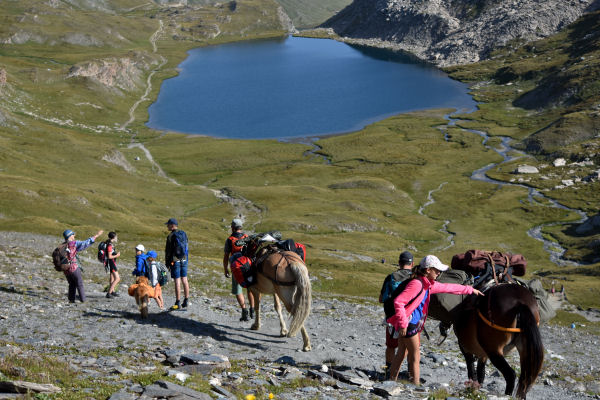 Our strong points...

A tour suitable for children from 6 years old
A week of sharing with likeable animals, symbols of pastoralism
A mountain leader who furthers the development of children
A night in a mountain refuge surrounded by marmots